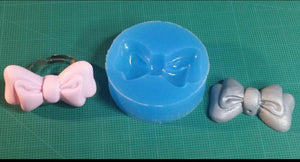 Bowknot Flexible Silicone Mold
Visit www.divinelysweets.com and use code newwebsite for a 15% discount
Bowknot Flexible Silicone Mold
Easy to use. No releasing agent is needed, just pop out Your finished piece like in the pictures shown above.
Our molds are made in Genuine Silicone, Clean Edge and Perfect Details. Food making, scrapbooking, jewelry, charms, cupcake decoration, chocolate, dollhouse miniatures and so on.
♥ AREAS OF USE ♥
Food (Chocolate, Hard Candy, Butter, Ice Cream, Fudge, Fondant, Ice, Gelatin, Marzipan, Candy Clay, Gum Paste, Royal Icing, Gummi Bears, Poured Sugar, Pastillage, Nougat, Cheese, Pate, Tallow, Edible Cake Decorations and more), Plaster, Artist Clay, Wax, Cement, Casting Resins, Polymer Clay, Melt and Pour Soap, Low Melt Metals, Precious Metal Clay, Candles, Hot and Cold Processed Soap, Hot Melt Glue, and more...
♥ TEMPERATURE ♥
Our molds can withstand temperatures as high as 450 degrees F. (-60 degrees celsius to 220 degrees celsius). They are also unaffected and remain pliable when placed in the freezer.
♥ FOOD GRADE ♥
All our handmade flexible molds are made with silicone materials that comply with the regulations set forth by the Food and Drug Administration.
♥ CLEAN THE MOLD ♥
Our molds can be washed with hot, soapy water. They can also be put in the dishwasher or even boiled. But do not wash mold with abrasive pads or cleaning agents like Ajax cleanser.
♥ SPECIAL TECHNIQUE ♥
We use special technique to press our molds to ensure they pick up all the details / holes of the master we molded. All the samples shown in the pictures are made by our handmade molds with clay and so you know how your finished piece would look like.